Our tray bake desserts are competitively priced without compromising on quality, taste and flavour. We have taken some of our favourite desserts flavours and reimagined them in a tray bake style, finished with a handmade flair.
Like our Artisan desserts, our Tray Bake Range is blast frozen on the day of production and uses only the best of Irish and international ingredients to create quality products with outstanding flavours.
Product Range
Crème Liqueur Cheesecake
Tiramisu
Apple & Toffee Sponge
Raspberry & White Chocolate Cheesecake
Strawberry Cheesecake
Lemon Cheesecake
Features & Benefits
High quality national & international ingredients
Made with a focus on flavour, consistency and quality
Tray bake style portioned desserts to reduce wastage & labour
Hand-crafted in Listowel, Co. Kerry, Ireland
Neutral decoration to allow chefs to create their own finish
Easy to use, thaw & serve dessert
Made fresh then instantly blast frozen to ensure freshness and preserve flavours
Quality ingredients
Only the best local ingredients are used to manufacture our desserts, such as: cream cheese, butter and dairy cream combined with the best of international ingredients such as Belgium and Italian chocolate and Madagascar vanilla.
Product sizes & weights
An individual tray bake slice is approx. 98mm x 42mm. Each tray bake comes in a food grade box containing 33 portions. One case consists of 2 tray bakes
---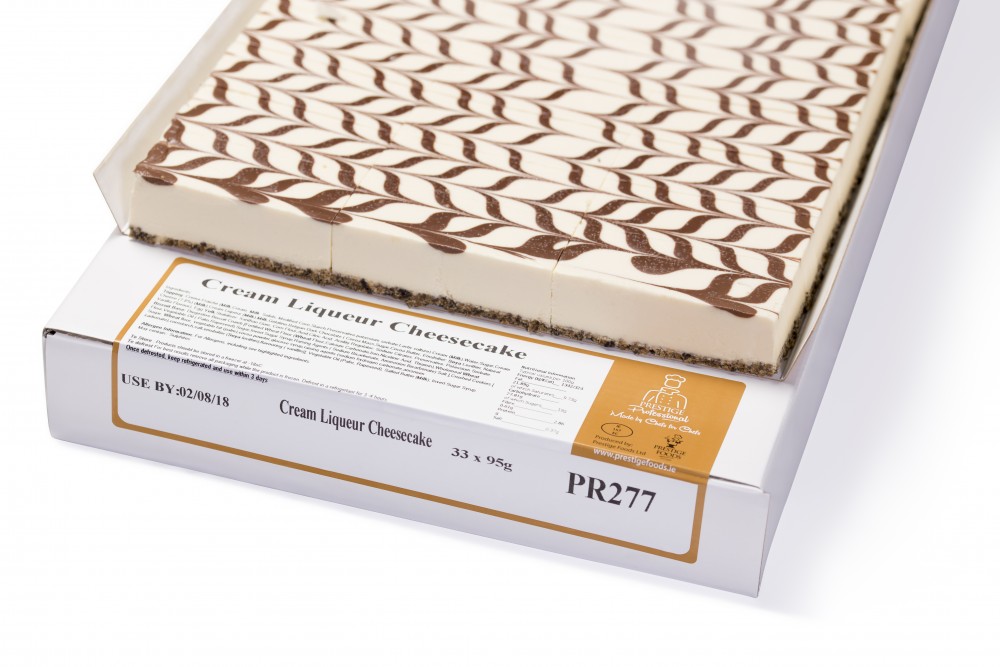 Crème Liqueur Cheesecake
Key Ingredients:
Cream cheese, crème fraiche, Irish crème liqueur, Belgian dark chocolate, Irish free range eggs,
crushed chocolate cookies, Irish dairy cream & butter
Description:
A light Irish crème liqueur cheesecake on a base of crushed chocolate cookies and
digestive biscuits, decorated with a rich handmade Belgian chocolate custard
Reference: PR277
Apple & Toffee Sponge
Key Ingredients:
Apple, brown sugar, toffee, Irish free range egg
Description:
A rich toffee and apple sponge, made using Irish free range egg and topped with a layer of
caramelised apple with a hint of mixed spice, finished with a light dusting of spiced icing sugar
Reference: PR279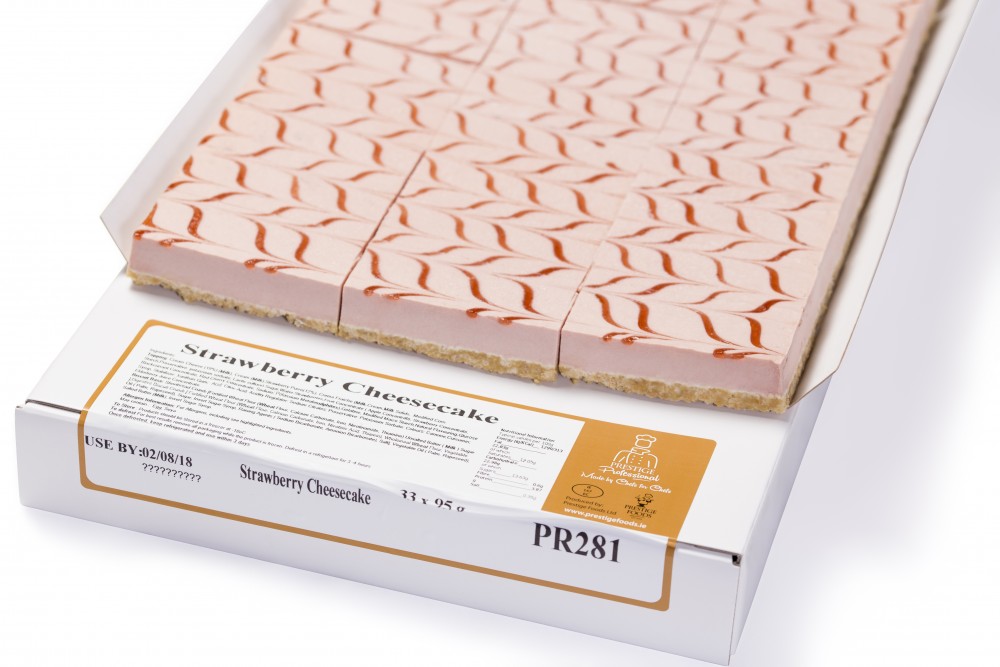 Strawberry Cheesecake
Key Ingredients:
Cream cheese, crème fraiche, strawberry puree, Irish dairy cream & butter
Description:
A light strawberry cheesecake, rippled with a strawberry sauce, on a shortbread biscuit base
Reference: PR281
Tiramisu
Key Ingredients:
Italian mascarpone cheese, Irish dairy cream, coffee liqueur and ladyfinger biscuits
Description:
An Italian style layered Tiramisu with coffee soaked ladyfinger biscuits, a whipped Italian
mascarpone cream with coffee liqueur and finished with a thin dusting of cocoa powder
Reference: PR278
Raspberry & White Chocolate Cheesecake
Key Ingredients:
Cream cheese, white chocolate, raspberries, Irish dairy cream & butter
Description:
A rich white chocolate cheesecake topping, rippled with a tangy raspberry compote,
on a digestive biscuit base
Reference: PR280
Lemon Cheesecake
Key Ingredients:
Irish cream cheese, crème fraiche, Sicilian lemon, Irish dairy cream & butter
Description:
A light fresh Sicilian lemon cheesecake, rippled with a lemon sauce, on a digestive biscuit base
Reference: PR282