Our Artisan range offers a wonderful variety of delicious and ready to serve individually portioned and mini desserts specifically aimed at the Food services market. All our products are handmade by our specially trained staff in our BRC certified facility in Listowel, Co. Kerry, Ireland.
The Artisan desserts are blast frozen on the day of production and uses only the best of Irish and international ingredients to create quality products with outstanding flavours.
Product Range
Belgian chocolate tartlet
Strawberry cheesecake
Sicilian lemon tartlet
Raspberry cheesecake
Baked Belgian chocolate cheesecake
Lemon cheesecake
Chocolate Amaretti dessert
Baked vanilla cheesecake
Belgian Chocolate & Caramel Filled Cone
White Chocolate & Raspberry Ganache Tart
Sicilian Lemon Ganache in a Dark Chocolate Cup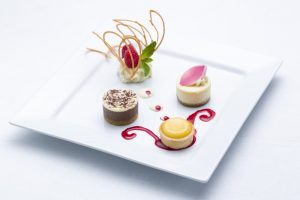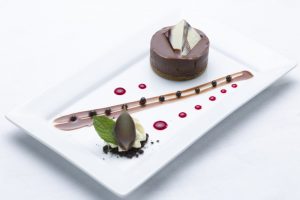 Features & Benefits
High quality national & international ingredients
Made with a focus on flavour, consistency and quality
Mini and portioned desserts to reduce wastage & labour
Hand-crafted in Listowel, Co. Kerry, Ireland
Neutral decoration to allow chefs to create their own finish
Easy to use, thaw & serve dessert,
Made fresh then instantly blast frozen to ensure freshness and preserve flavours

Quality ingredients
Only the best local ingredients are used to manufacture our desserts, such as: cream cheese, butter and dairy cream combined with the best of international ingredients such as Belgian and Italian chocolate, Madagascan vanilla, Italian Mascarpone and Sicilian lemon.
Product sizes & weights
Mini Portion
Sicilian lemon tart 25g approx. x48 100g approx. x12
Baked Cheesecakes 35g approx. x48 112g approx. x20
Coldfill Cheesecakes 35g approx. x48 125g approx. x20
Amaretti dessert 33g approx. x48
Sizes: 4 cm Ø 7 cm Ø
Chocolate tart: 18g approx. x48
Size: 4cm²
Sizes
Filled Cone 22g approx. x66 75 mm long
Ganache Tart 18g approx. x48 3.5 cm²
Chocolate Cup 15g approx. x48 3.8 cm

Baked Belgian Chocolate Cheesecake

Key Ingredients:
Irish cream cheese, sour cream, Belgian dark chocolate, milk chocolate, butter.
Description:
A baked cheesecake, made using Irish cream cheese and a dark Belgian chocolate, slow baked on a digestive biscuit base. Topped with a creamy milk chocolate ganache and chocolate decoration.
Reference: Mini PR164 / Portion PR163


Baked Vanilla Cheesecake

Key Ingredients:
Irish cream cheese, sour cream, Madagascar vanilla, Irish butter.
Description:
A creamy smooth baked cheesecake, made using Irish cream cheese and set sour cream, blended with Madagascar vanilla and slow baked on an all butter biscuit base.
Reference: Mini PR170


Belgian Chocolate & Caramel Filled Cone

Key ingredients:
Irish cream, butter, Belgian Dark Chocolate, Caramel, Irish sea salt
Description:
A chocolate coated cone filled with an Irish sea salt infused caramel and Belgian dark chocolate ganache
Reference: REF 1000


White Chocolate & Raspberry Ganache Tart

Key ingredients:
Irish cream, Irish butter, White Chocolate, Natural raspberry pieces
Description:
a sweet chocolate shortcrust pastry tart filled with a white chocolate ganache and Raspberry compote
Reference: REF 1001


Lemon Cheesecake

Key Ingredients:
Irish cream cheese, Irish dairy cream, Irish butter, Sicilian lemon juice.
Description:
A sweet citrus infused cheesecake, made using real Sicilian lemon juice and Irish dairy cream and cream cheese, on a digestive biscuit base. Decorated with a lemon glaze.
Reference: Mini PR156 / Portion PR155


Strawberry Cheesecake

Key Ingredients:
Irish cream cheese, Irish dairy cream, natural strawberry pieces
Description:
A sweet cheesecake with strawberry pieces, set on a digestive biscuit and Irish butter base and finished with a thin layer of strawberry glaze.
Reference: Mini PR158 / Portion PR157


Raspberry Cheesecake

Key Ingredients:
Irish cream cheese, Irish dairy cream, Irish butter, natural raspberry pieces, Madagascar vanilla.
Description:
A digestive biscuit and Irish butter base topped with a blend of Irish cream cheese and Irish dairy cream with a hint of Madagascar vanilla, and a tangy raspberry compote
Reference: Mini PR168 / Portion PR167


Belgian Chocolate Tart

Key Ingredients:
Irish dairy cream, Belgium dark chocolate, Free Range Irish egg yolks, Irish butter.
Description:
A chocolate shortcrust tart filled with a baked Belgian chocolate ganache
Reference: Mini PR162


Sicilian Lemon Tart

Key Ingredients:
Sicilian lemon, Irish butter, Free Range Irish egg yolk.
Description:
A sweet shortcrust pastry tart filled with a sharp but sweet Sicilian lemon curd, made using butter, Sicilian lemon juice and lemon pieces and coated with a thin layer of Sicilian lemon glaze.
Reference: Mini PR160 / Portion PR159


Sicilian Lemon Ganache in a Dark Chocolate Cup

Key ingredients:
Irish cream, Irish butter, White Chocolate, Sicilian Lemon
Description:
A dark chocolate cup, filled with a white chocolate and Sicilian lemon ganache
Reference: REF 1002